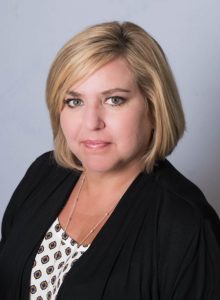 FUQUAY-VARINA, North Carolina (July 15,  2019) – Fidelity Bank is pleased to announce that Heather Hines has joined its mortgage division, Right By You Mortgage, as Mortgage Loan Officer and Assistant Vice President. In her new position, Mrs. Hines is responsible for developing and nurturing relationships with home buyers, homeowners, Real Estate Partners, and Bank Partners. She will guide her clients through the home loan process to ensure a positive and comfortable real estate transaction from start to finish. Heather serves territories in Raleigh, Wake Forest, Creedmoor, Roxboro, and Oxford. Her office is located at 5220 Falls of Neuse Road, Raleigh, NC.
Heather has 20 years of mortgage experience in the local market. Prior to joining Right By You Mortgage, she worked as a Mortgage Development Officer for Coastal Credit Union. She has also worked in various other roles in the mortgage industry including as a Loan Officer, Operations Manager, Senior Processor Lead and Underwriter. In addition to her mortgage background, Heather is active in the community. She is an active volunteer for Habitat for Humanity and Animal Advocates Rescue. She is also a sponsor and supporter for Skate4Life and a volunteer and supporter for Healing Transitions.
Mrs. Hines graduated from Jones College- Jacksonville with a Bachelor Degree in Business Administration. She currently resides in Raleigh, NC with her husband, Lance Hines, and has a 26 year old daughter, Ashley Hines.
Fidelity Bank is a full-service financial institution with assets of approximately $1.9 billion headquartered in Fuquay-Varina, North Carolina. The Bank owns and operates 56 branches throughout North Carolina and Virginia; and was awarded a 5-star (superior) rating by BauerFinancial. For more information on Fidelity Bank, please visit www.fidelitybanknc.com.